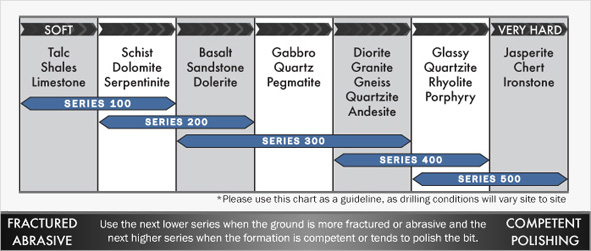 PHQ has listened to the concerns of the professional driller, who faces a bewildering array of products from which to try to make the correct choice. By its very nature, exploration takes on the unknown, so PHQ has eliminated the need to try to pick the right specialized product for a formation that has yet to be drilled. Instead, by giving careful thought to the metallurgical design, each member of a small group of matrices can perform well in a broad variety of conditions.
By considering the drillability of the rock rather than concentrating only on hardness, we have judged the combined effects of abrasiveness, friability and hardness to develop a series of five products to meet the challenge of any formation.
Selection criteria
| | |
| --- | --- |
| Series 100 | Designed for the most broken and abrasive formations, where rock hardness is the secondary consideration. The product is protected from attack in the gauge area and has a combination of matrix metallurgy and diamond selection that provides productivity while resisting premature wear from the formation. This series would be the impregnated choice to consider for the replacement of a surface set product. |
| Series 200 | This series is for formations of medium abrasiveness and hardness, as in many sedimentary rocks and overburden conditions. Coarse-grained and fairly broken formations are the usual areas of application for this general purpose matrix. |
| Series 300 | A productive bit in medium to medium-hard formations, with moderate abrasion. The matrix is designed to provide sustained performance in most igneous rock formations and is a good starting point for those cases where the rock characteristics are unknown. |
| Series 400 | Finer grained rocks which offer little abrasive assistance to penetration need a freer-cutting matrix. This series is the likely choice for the harder igneous and metamorphic formations, where there may still be some broken areas to pass through. Productivity is assured with this smooth-cutting matrix. |
| Series 500 | The least drillable, least abrasive and often hardest rocks present the greatest challenge to an impregnated bit because there is no natural mechanism for the matrix to erode, maintaining exposure of fresh diamond cutting surfaces . Series 500 is developed to address this hurdle, allowing fresh diamonds to be presented without constant intervention from the driller. |
Referring to the table above, select the matrix that most closely represents the expected type of formation. If the standard crown tends to polish or cut too slowly with the available bit weight, consider the Turbo option, or the next higher matrix in the scale. If the bit wears too quickly, use the next lower matrix in the scale.