PHQBBC120 Drifter Rockdrill
The PHQBBC120F drill is a heavy rock drill for both drifting and tunneling, and for benching and production drilling.
The drill is commonly used with 32mm (1 1/4″) and 38mm (1 1/2″) extension drills steel equipment and is suitable for both underground and surface work.
The PHQBBC120F drill has reversible rotation, which can also be disengaged so that only the impact mechanism works.
Air or water flushing of drill cuttings is possible, and all drill functions are operated from a remote control unit.
The drill is usually mounted on a BMS Feed Assembly and used on a Copco Drill Wagon
---
---
PHQBMS Screw Feeds give:
Maximum possible effective feed length even in confined spaces
High drilling precision – smooth cradle movement in accurate guidance
Reduced drill steel costs through positive alignment
Long wearing life due to precision metal guide ways
Low weight aluminum alloy guide shell base lowers overall weight
Replaceable cradle ensures longer life for rock drills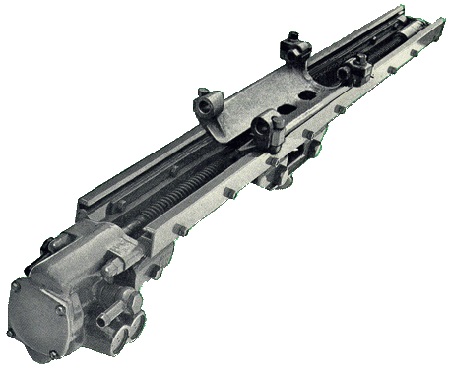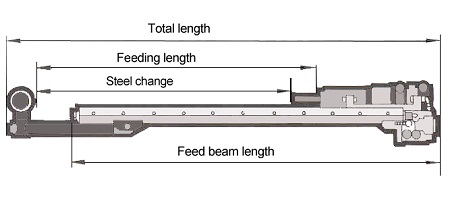 | Feed Type | PHQBMS46 | PHQBMS66 |
| --- | --- | --- |
| Rockdrill | BBC100 BBC120 | BBC100 BBC120 |
| Feed Force | 7 kN | 7 kN |
| Steel Change | 4 feet 1220mm | 6 feet 1830mm |
| Feeding Length | 60 in 1525mm | 83 in 2110mm |
| Feed Beam Length | 78.7 in 2000mm | 101.5 in 2582mm |
| Total Length | 92 in 2330mm | 116 in 2940mm |
| Centralizer | PHQ10AC BSP10 | PHQ10AC BSP10 |
| Items | Specs (In/lb) | Specs (Mm/kg) |
| --- | --- | --- |
| Weight of drill | 152 lb | 69 kg |
| Length of drill | 30.5 in | 780 mm |
| Piston Bore | 4.75 in | 120 mm |
| Stroke Length | 2.5625 in | 65 mm |
| Impact Rate | 1900 blow per minute | 1900 blow per minute |
| Impact Power | 9.6 Hp | 7.2 kW |
| Rotation Speed | 0 to 180 revolutions /min | 0 to 180 revolutions /min |
| Maximum Torque | 665 lb force ft | 900 Nm |
| Optimum Working Air Pressure | 100 psi | 7 Bar |
| Maximum Air Consumption | 328 cfm | 9.3 m3/min |
| Air Flushing | 1.5 cfm | 45 liters / min |
| Water Flushing | 10 gal / min | 58 liters / min |
| Optimum Hole Diameter | 1 7/8 in to 3 in | 48mm to 76mm |
| Efficient Hole Depth | 100 ft @ 1 7/8 in to 15 ft @ 3 in | 30 m @ 48 mm to 5 m @ 76 mm |
| Drill Steel Size | R32 (1.25 in) R38 T38 (1.5 in) | R32 (32 mm) R38 T38 (38 mm) |
| Hose Sizes | Air 1.5 in Water 0.75 in | Air 38mm Water 19mm |
| Shank Size | 1.5 in x 1.5 in lugged chuck | 38 mm x 38 mm lugged chuck |
Required: Adobe Acrobat Reader