Exclusive muffler flap design reduces back pressure, provides a flexible discharge orifice for operation at variable line pressures. Stainless steel Muffler to prevent corrosion.

Reverse buttress threaded steel chuck and bronze driver nut. Exclusive patented retainer buffer design reduces shock on the steel retainer and fronthead. Increases part life and reduces transmission of noise produced by ringing drill steel.

Airleg yoke and adapter design contribute to better balance and ease handling while eliminating the pinch point at junction of the airleg and the rockdrill. Airleg dump valve speeds up leg retraction.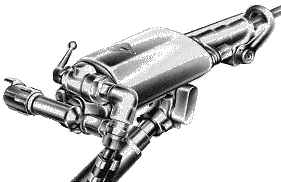 Leg control handle has convenient control knob that regulates pressure to the leg, and includes a push-button to operate the retractable airleg and push button bleed for the standard leg. Drills are available with 51 inch standard airlegs or retractactable airlegs.

PHQ supplies either "top" extension or "bottom" extension retractable legs.