PRESENT CENTRALIZER PLATE Old Part Number 31420265
The old centralizer plate was designed to press an "O" ring down on a shoulder inside the centralizer housing to create a seal. This produces side-pressure on the plate when installed, from the "O" ring pressing against the shoulder. The side pressure makes it difficult to properly install the snap ring which holds the plate in place. The ring does not readily open out all the way into the snap ring groove in the housing and may not be fully expanded into place. One needs to use a driver to hammer the snap ring into the groove to be sure it is seated properly. If this is not done correctly there is a possibility the snap ring could come loose and allow the plate to blow out of the centralizer housing. Old plates can still be used however the mechanic must make sure to use a driver to properly seat the snap ring all the way down into the snap ring groove.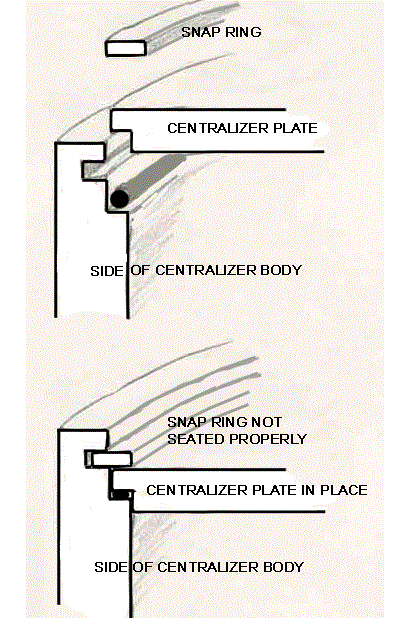 NEW CENTRALIZER PLATE New Part Number 31420265SP
PHQ has changed the design of the centralizer plate to improve the seal between the centralizer plate and the centralizer housing. An "O" ring groove is cut in the side of the plate around the outer circumference of the plate. The groove will take the same "O" ring as is presently used. Now the "O" ring is pressed between the inside of the centralizer housing and the side of the plate to provide a seal. The new plate has a thickness made to fit onto the shoulder in the housing but leave enough room for the snap ring to be easily installed. There is no side-pressure on the snap ring so it quickly opens out to snap fully into place. A driver is not needed to seat it properly in the groove. These new plates replaced the old plates in all new centralizers shipped from PHQ, from May 8, 2001 forward. The price of the plate did not change.