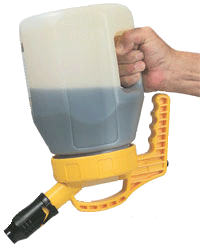 Oil Safe® products are made of high-density polyethylene (HDPE) for rugged durability. Lids sealed by petroleum resistant Nitrile O-rings provide positive closure and no leaks every time. Drums made with built in anti-static agents and proper UV inhibitors are designed to store lubricating fluid at temperatures from -40°C to +80°C
Use The storage lid to transport an empty drum to be filled with lubricant and to carry the lubricant back to the work place.

System uses two drums. One drum is left in the work place with a pouring lid attached for filling the lubricator. A second drum is in transit or in the work place with the storage lid for re-filling.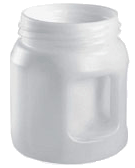 The pouring lid remains in the work place for filling the lubricator with rock drill oil or grease. when the drum is empty the lid is exchanged with the storage lid on the spare filled drum.