Procedure to change from grease to oil in Joy 5048912 Lubricator
Drain grease from lubricator. Check to be sure majority of grease is removed. Blow front end ports.
Fill lubricator with proper rock drill oil desingated for rock drills (see table).
Set nozzle at maximum flow setting (see features page) to begin...reduce later.
Blow hose, at partial pressure, until oil appears coming from end of the hose.
Field strip equipment and blow all grease out of the front end components.
Re-assemble the equipment, connect the hose.
Operate the equipment, checking critical areas to be sure there is no over-heating.
Check front chuck to see if oil is forming a ring on drill steel shank.
Reset nozzle to full flow if insufficient oil is reaching the equipment (see features page)
Check lubricator reservoir half way through first shift to ensure oil is flowing.
Check the lubricator at beginning of next shift to gauge your re-fill interval.
Application Temperature - Oil Grade Table
| Application | Temperature | Grade of Oil |
| --- | --- | --- |
| All pnematic drills underground | -40° C to 0° C | EP20 to EP50 |
| Jackleg Stopers underground | -5° C to +20° C | EP100 |
| Drifter Drills underground all drills surface | +10 C to +30° C | EP150 |
| All pneumatic drills surface and underground | +30° C | EP220 |
PHQ recommends grades from EP20 up to EP50 rock drill oil when ambient temperature is between -40° and 0° C PHQ recommends EP100 as standard rock drill oil for hand held drills in most underground temperatures and applications. PHQ recommends EP150 rock drill oil at higher temperatures underground and for larger drifters underground. PHQ recommends EP150 as standard rock drill oil for use in all pneumatic drills in surface drilling applications. PHQ recommends grades from EP150 up to EP220 rock drill oil when ambient temperature exceeds 30° C
Drills damaged after being run on double zero (00) grease Always use lubricant supplied by the major oil companies such as: PETRO CANADA ESSO SHELL TEXACO
THESE PARTS WERE TAKEN FROM TEN JOY SAL60M STOPER DRILLS STRIPPED DOWN FOR EXAMINATION AFTER RUNNING ON DOUBLE ZERO (00) GREASE. A LONG LUBRICATION PORT IN FRONT ENDS of all the drills was PLUGGED WITH GREASE. there WAS HARDENED GREASE IN MANY OF THE DEAD SPOTS WITHIN THE DRILLS. ALL DRILLS REQUIRED MAJOR REPAIRS
CHUCK DRIVER SCORED AND WORN FROM LACK OF LUBRICATION IN FRONT END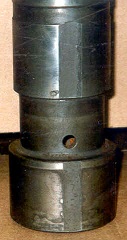 CHUCK INSERT WORN FROM LACK OF LUBRICATION IN FRONT END OF DRILL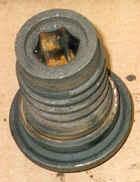 CHUCK PREMATURELY WORN OUT FROM LACK OF Lubrication in FRONT END.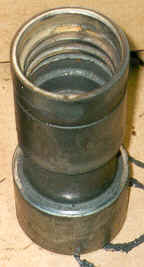 BACKHEAD OF THIS DRILL WAS FILLED WITH HARDENED GREASE. NO Lubrication was getting to the front end of this piston